Congrats are in order for Missy Elliot who became the first female rapper to be inducted into the Rock & Roll Hall of Fame! The 38th Annual Ceremony took place on Friday, November 3 at Barclay's Center in New York City and also welcomed legends like DJ Kool Herc and Chaka Khan.
Elliot, who also broke the world record for most platinum albums by a female rapper, has remained humble and diligent as a creative since the 90's writing for a young Raven Symone and R&B pioneers like Aaliyah and SWV. Since then, her influence on the industry has captivated the world granting her over 200 awards, 30+ million records sold, and up until this year the longest-charting female rapper on the Billboard Hot 100!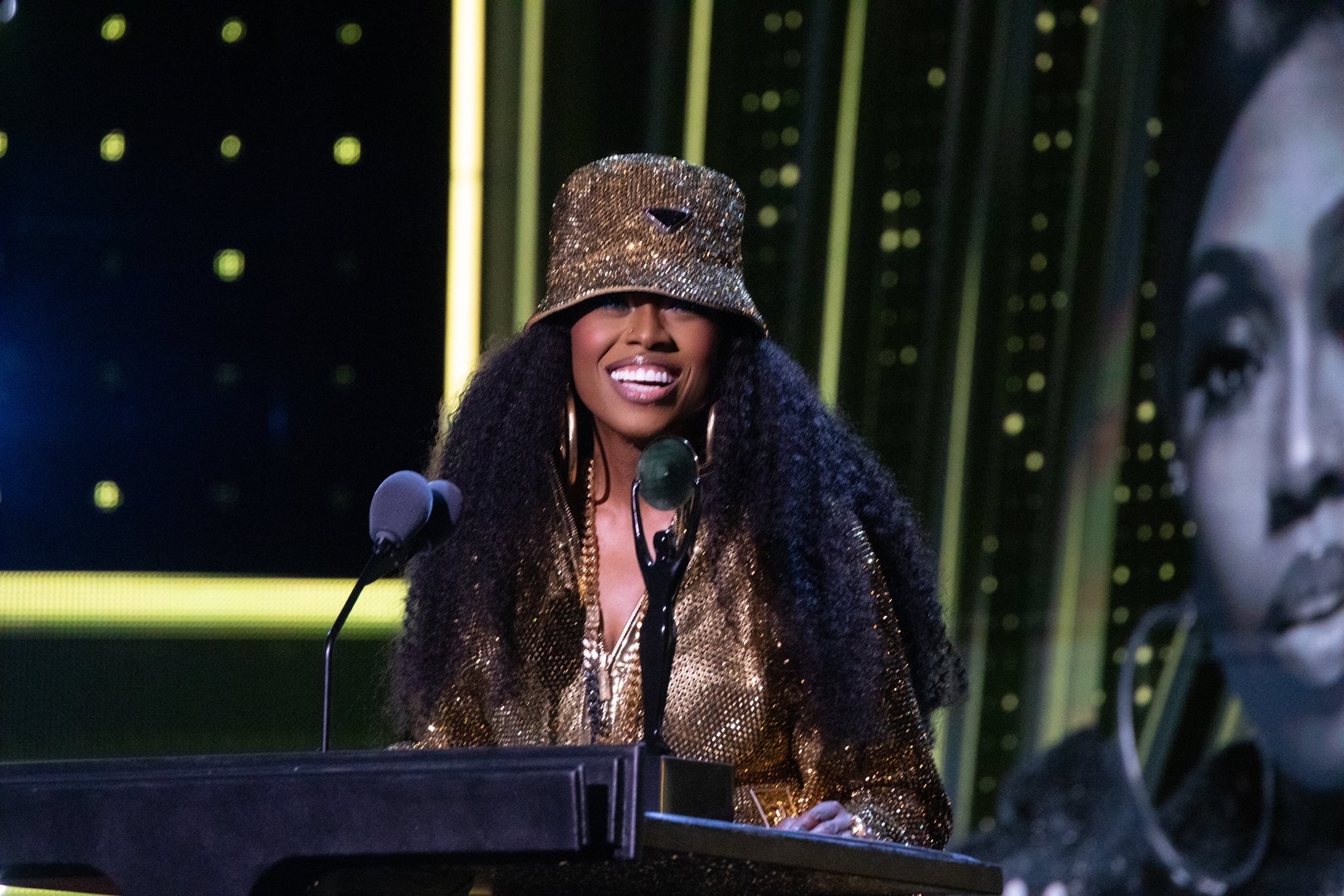 Missy Elliot at the 2023 Rock & Roll Hall of Fame, Photo by Derek Blanks
After the event, she shared a tweet saying "I got to the podium & my mind went blank it is a feeling that's almost unimaginable as I listened to the Cheers & Claps of so many ppl I felt like a little girl again singing to my babydolls in my room. I felt like the child who told my teachers I'm gonna be a star. I hope I've made them proud also." See what else was on the mind of Misdemeanor leading up the ceremony. 
In a statement released by the Rock & Roll Hall of Fame, Chairman John Sykes said, "This year's incredible group of Inductees reflects the diverse artists and sounds that define rock & roll. We are honored that this November's Induction Ceremony in New York will coincide with two milestones in music culture; the 90th birthday of Willie Nelson and the 50th Anniversary of the birth of Hip Hop. See who else got the prestigious honor alongside Missy!
Performer Category 
Kate Bush
Sheryl Crow
Missy Elliott
George Michael
Willie Nelson
Rage Against the Machine
The Spinners
Musical Influence Award 
DJ Kool Herc
Link Wray
Musical Excellence Award 
Chaka Khan
Al Kooper
Bernie Taupin
Ahmet Ertegun Award 
Don Cornelius
Outside of music, Missy is iconic for her innovative and stunning visuals! Whether a performance or music video, Elliot's creativity takes her audience on a wild adventure to a dimension we didn't know existed. She's hit the stage a few times this year for Essence Fest, Mary J. Blige's Strength of a Woman Fest, and the Lovers and Friends Tour- but nothing will top her performance one of the most important nights of her life. Check out the full show and keep an eye out for what's next from the ONLY female rapper in the Rock & Roll Hall of Fame! 
The Kickback w/ Jazzi Black Weekdays 9A-3P, Saturdays 12P-3P | Follow Me on IG @jazziblack , Follow Me on Twitter @yojazziblack
The post Missy Elliot Is First Female Rapper In The Rock & Roll Hall of Fame appeared first on 97.9 The Beat.
Missy Elliot Is First Female Rapper In The Rock & Roll Hall of Fame  was originally published on thebeatdfw.com